Reducing FOG with Bioaugmentation
Did FOG cause your last SSO?
Ready to reduce foaming issues at your WWTP and lift stations?
Tired of using Jetter Trucks to "solve" your FOG problem?
Our whitepaper can help. Get your copy today.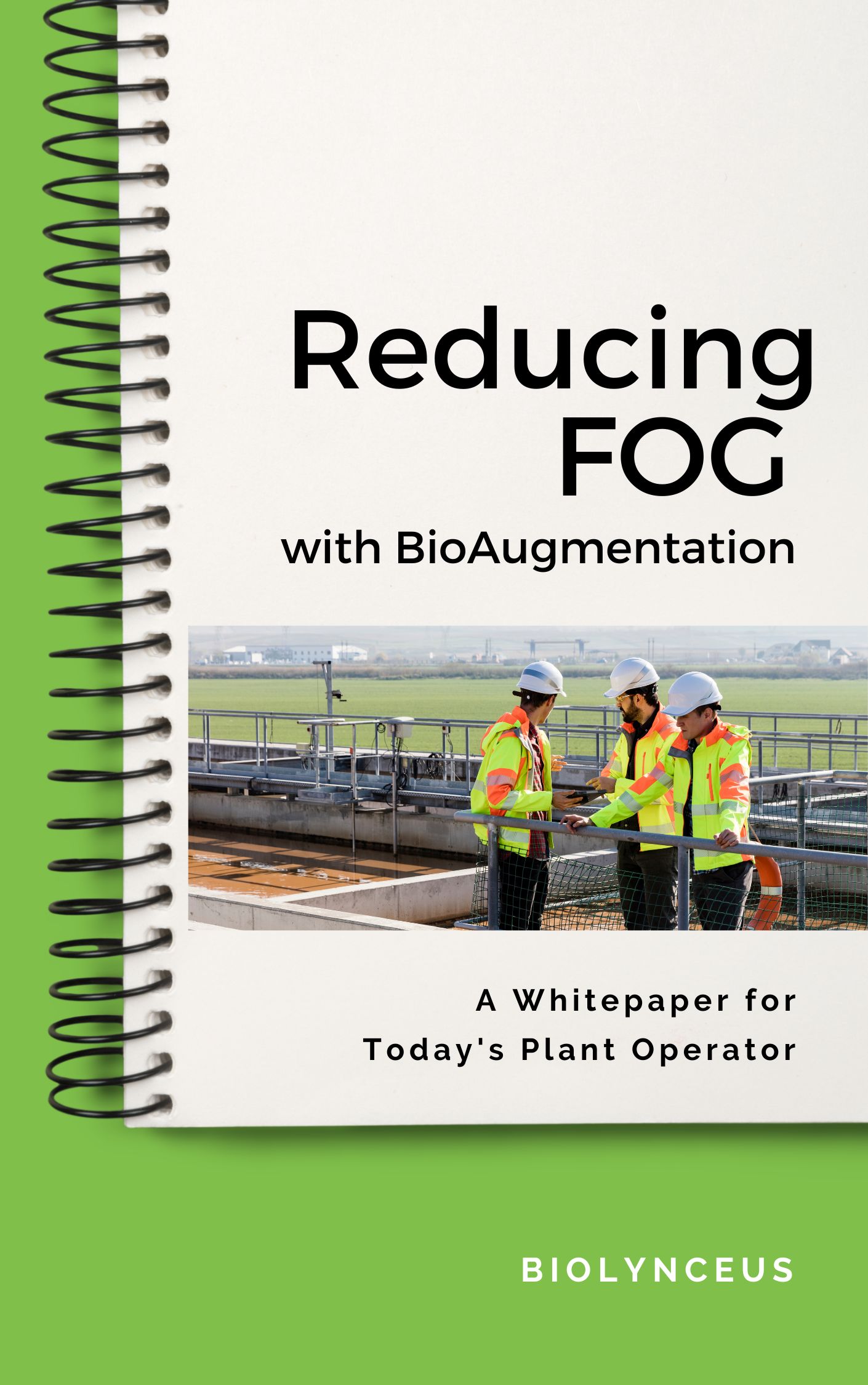 Operators face significant challenges in running today's wastewater treatment plants.  They are often constrained by time, shrinking budgets, overall demand, and stringent compliance standards.
Our whitepaper charts our comprehensive solution to dealing with FOG at your plant. Microbiology is the most cost-effective solution on the market, and we show you how to get started.
Chapter 1: FOG Formation, Accumulation and Consequences
Section 2: What causes FOG build up?
Chapter 4: Dealing with FOG, The Brute Force Alternative
Chapter 5: Dealing with FOG, The Biological Alternative
Case Study: Bioaugmentation in a 0.7 MGD Collection System
Case Study: FOG Reduction in a 0.8 MGD Collection System Reduces Lift Station Maintenance
Case Study: FOG Reduction in the Collection System; Solids Reduction in the Digester
Case Study: Small community Fights FOG with Probiotic Scrubber® PP
FOG Formation, Accumulation and Consequences
FOG, fats, oils and grease create a variety of problems in sewer collection piping, lift stations and wastewater treatment plants. The most benign result of FOG maybe increased treatment cost at the wastewater plant.
Figure 1: Floating pieces of FOG at the effluent of the grit chamber of a wastewater treatment plant.1
In the collection system more costly and serious problems include clogged or severely restricted flow in sewer lateral lines as well as the main line and clogged sewer lift stations.
Figure 2: Looking down into a manhole one can see significant buildup of FOG on the lateral line from a commercial establishment. The lateral connects the business to the sewer system. One can also observe corrosion to the concrete as well as the metal steps (bottom of photo).
1 Photos and data used in Figures 1-12 were provided courtesy of Bill Thomas. Used with permission.
Figure 3: Data plotted over a 5- year period illustrate the FOG concentration is relatively consistent year to year and quarter to quarter. However, the 4th quarter of 2020 shows a significant spike. Utility managers are uncertain of the cause. The utility's pretreatment coordinator said no change in flows could be detected from commercial business.
Figure 4: A new grease interceptor (GI) being installed at a restaurant. A multiple chamber design with a baffle(s) between the chambers is common. The design is such that FOG floats to the surface in the first chamber while the liquid phase goes under the baffle wall. Remaining FOG then floats to the surface of the second chamber. There is typically a baffle or other arrangement to prevent the floating FOG to leave the second chamber. The liquid phase with be drawn from the bottom.
It is common practice to attempt to maintain the FOG at no more than 25% of a GI's total volume. So, when 25% full of FOG both the FOG and liquid are pumped from the tank by a commercial hauler.
This whitepaper is for
Operators
Circuit Riders
Engineers
Administrators
Or anyone looking to gain an in-depth understanding of using biology to reduce FOG issues at your plant.