I recently received this email from a municipality looking for help regarding a new (small) lift station:
"Our new lift station is being clogged with wipes almost daily, requiring several hours a day sometimes. That is very difficult when I am the only employee. Do you know if it is legal, or has it been done, to ban the flushing of wipes by ordinance? We have written letters strongly asking that the wipes not be flushed, but it is still happening."
Having received many of these emails, I set the team to do some research and see if there were any new changes to the flushable issue. This is what we found to be developing:

According to the National Association of Clean Water Agencies (NACWA), which represents municipal wastewater utilities, California, Maine, Minnesota and New Jersey have tried to pass flushable wipes laws but were unsuccessful. NACWA recently backed a new D.C. law, that was to take effect on January 1, 2018.

The law sought to ban the use of the word "flushable" from appearing on 'flushable' wipe packaging. Kimberly-Clark, a Dallas-based flushable wipe giant, filed a lawsuit in response to the law, claiming the law is unconstitutional because it "will severely restrict, if not eliminate, consumers' ability to purchase flushable wipes in Washington D.C."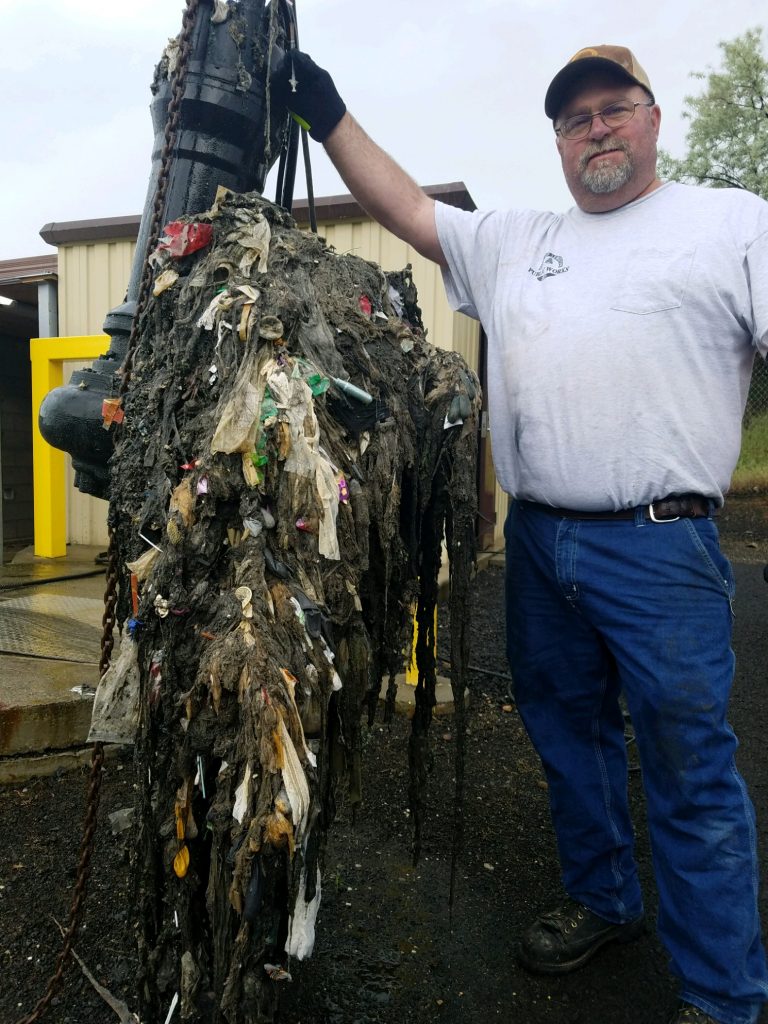 Figure 1. Sanitary wipes removed from a lift station in Lewiston, MT.
In December 2017, the lawsuit went before a Federal Judge because, according to Judge James Boasberg, the District of Columbia embarked on a campaign to address this "purported scourge of our sewer system: nonwoven disposable wipes" without considering alternative, less-restrictive statutory language (like a disclaimer instead of a ban). Kimberly-Clark was granted a preliminary injunction on how the law required them to label their product as 'do not flush'.

The city of D.C. wrote in a rigorous 'flushable' standard as defined by NACWA, while Kimberly-Clark fought in court stating that their wipes meet a standard crafted by the International Nonwovens and Disposables Association (INDA; a trade group). This ruling opens the door to others in the industry to introduce laws around 'flushables'.

The disappointing piece is that the court gave in to a standard crafted by a trade group on behalf of their members instead of the standard defined by the water and sewer authorities that are spending as much as one million dollars a year to manage sanitary wipes. The city of Denver alone spends as much as $100,000 a year just to haul these materials from their wastewater systems.
INDA is part of a coalition called the Responsible Flushing Alliance. They advocate voluntary measures that focus on educating the public about the dangers of non-flushable wipes over the mandatory guidelines that municipal wastewater utilities seek to impose.

They have updated the code of labeling practices to ensure manufacturers make clear which products are not flushable. Many towns, cities and large municipalities are implementing their own 'do-not-flush' campaigns to spread the word on what should not be flushed and the three P's that can (pee, poop and toilet paper).
What does all of this mean for the wastewater industry?
1. Education is key. You must get the word out to change behavior
2. Develop a workable definition of what you can and cannot flush.
3. Create a well-rounded pretreatment ordinance that holds entities responsible for causing blockage or overflow issues. Those who send non-flushable sanitary wipes into the system should be responsible for added repair costs (this must be written by an attorney and voted on by council).
4. Utilize EPA Rule 403. This may provide legal backing to sanitary wipes being in violation of local ordinances.
5. Locate the source of non-flushables, such as hospitals, daycare centers, nursing homes, schools, private or government health care facilities and manufacturing entities. Try to manage the problem at the source.
6. Create visuals of what you have removed. Use pictures of your problems to educate town councils and your community. Show them the damages and expenses they are incurring by introducing 'flushables' to your system.
The argument used by manufacturers of flushables is that their product is designed to break apart as they make the trip through the wastewater system, but for smaller systems, that may not be as long of a trip. This means the product is not breaking apart before it becomes a clog. Most of what is clogging things are non-flushables that consumers think can go into a drain.

Educate consumers with things like door hangers or material posted in public restrooms. You can even take it a step further and use your local social media platform to change behaviors and ideas around what should go into your drains. Not only will this save you hours of extra work fishing out your system, it will save its weight in gold and maybe even make you a hero!
I hope this is of some assistance to answer the questions we get regarding 'flushables'. Our team is always available to provide training, answer questions, or assist you through any wastewater challenge you may be experiencing. Just give Rick Allen a call at (303) 888-2008 or contact me at [email protected]
©Rick Allen, BioLynceus®