Filamentous Bacteria Treatment
Managing filamentous bacteria (FB) in wastewater treatment systems is a balancing act. Having excessive filament forming organisms can cause foaming and treatment issues. Having too little FB prevents proper solids settling which is essential to recycling activated sludge.1

Bioaugmentation is a powerful tool that, when used strategically, can influence the biomass in a system to prevent excessive FB growth. BioLynceus® provides solutions to moderate the impact of FB in wastewater treatment. BioLynceus® live microbial solutions contain the correct biology and nutrients required to augment wastewater systems struggling with the FB factors.

Furthermore, BioLynceus® Candy Carbon® provides a rich organic carbon food source to maintain a healthy biomass and efficient food to microorganism (F:M). With BioLynceus® programs, our clients are successful in moderating the growth of filament forming bacteria in their wastewater treatment systems.

Factors contributing to problematic growth of FB are high mean cell residence time (MCRT), low F:M; high fats, oils, and grease (FOG) loads; and sulfide accumulation.2 When the MCRT at a wastewater treatment plant is high, augmenting the system with a healthy biomass can treat BOD and allow for more solids wasting to occur. Increasing solids wasting decreases MCRT, thus inhibiting the formation of FB in the system.

Also, adding a high quality organic carbon food source (Candy Carbon®) will influence the F:M and maintain the desired balance in the treatment process. The growth of FB that form in systems with high FOG inputs, such as Nocardia sp., can be inhibited by adding BioLynceus® Probiotic Scrubber® which contains lipid degrading microbiology. By moderating lipids in these situations, the environment is shifted to support lower quantities of filament forming bacteria.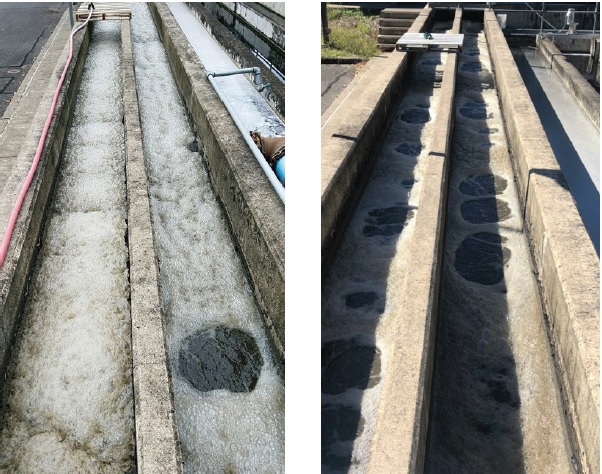 Figure 1. Activated sludge plant treated by BioLynceus® for filamentous bacteria. Untreated filamentous bacteria (left) and after treatment with BioLynceus® (right).
Additionally, sulfide accumulation at a treatment facility can promote the unwanted growth of sulfide oxidizing filamentous microbes that form thick filamentous foam. These organisms are combatted by supplying the system with sulfur oxidizing bacteria that transform sulfide into insoluble, elemental sulfur. This results in less sulfide availability for sulfide oxidizing FB to increase in population.

BioLynceus® speciality formulations contain the components that address FB in wastewater treatment. Clients treating for filamentous bacteria acknowledge the addition of ProBiotic Scrubber® and/or Candy Carbon® have demonstratively balanced the impact of FB in their treatment process.
BioLynceus® programs contain nutrients, microbiology and carbon that support healthy treatment processes.
1Pal, P., Khairnar,K., & Paunikar, W.N. (2014). Causes and Remedies for Filamentous Foaming in Activated Sludge Treatment Plant. Global NEST Journal, 16(4), 763. https://journal.gnest.org/sites/default/files/Submissions/gnest_01273/gnest_01273_proof.pdf
2Gerardi, M. (2016). Wastewater Bioaugmentation and Biostimulation. Lancaster, Pennsylvania: DEStech Publications, Inc. https://www.amazon.com/Wastewater-Bioaugmentation-Biostimulation-Michael-Gerardi/dp/1932078789