Collection System 0.8 MGD
A growing Wyoming municipality of 10,000 people was having trouble with fats, oils, and grease (FOG) management in their wastewater collection system. The city's lift stations and main lines were consistently coated with grease. When the lift station pits were cleaned each year, the FOG was so thick, manual scraping was required to remove the residues.
The wastewater supervisor was interested in using bioaugmentation to reduce FOG in the lift stations. He contacted BioLynceus® for a reliable biological solution. BioLynceus® ProBiotic Scrubber® II (PBII) was implemented for one month to test the efficacy of the product for reducing FOG. The PBII contains a highly diversified consortium of living bacteria for augmenting wastewater systems. Product was inoculated in one highly FOG impacted lift station.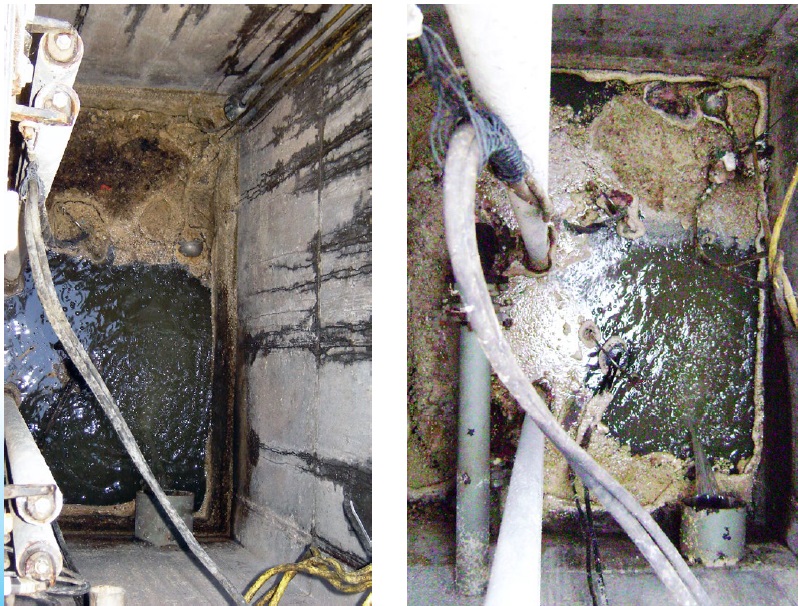 Figure 1. City lift station before treatment with PBII (left) and after a few months of treatment (right). The FOG changed to a lighter color indicating biological degradation. Lift station residues were less dense and easier to clean.
Within the first month of treatment, the operators noticed a considerable improvement in the amount of FOG collecting in the lift station. The FOG was also a lighter color and softer in texture. The wastewater management was pleased with the FOG reduction.
However, they decided to stop adding PBII to the pit to see if FOG would accumulate again. FOG began to build up in the lift station after a few weeks without BioLynceus® product. In response, the wastewater management decided to use PBII in three of their lift stations in the winter and four in the summer.
Two months after treatment was resumed, the jet truck operator arrived at the facility to clean the lift stations. To his surprise, the pits had less grease and paper products than ever before. The FOG that remained in the stations was easily sprayed off without mechanical removal or use of a degreaser.
The treatment ensured ease of cleaning when the time came for routine maintenance of the lift stations. Additionally, when the collection lines were jetted months later there was less grease than in previous years. Another benefit was, the PBII treatment helped reduce FOG without the use of chemical degreasing agents that can cause toxicity in the treatment process down line.
The head wastewater operator for the city's treatment facility wrote, "The other good thing about this product is that it is environmentally friendly and safe to use." ProBiotic Scrubber® II mitigated the FOG from the collection system, providing on-going support of FOG removal from the system.
BioLynceus® ProBiotic Scrubber® II helps reduce FOG in collection systems.