Freshwater Pond, 3 Acres, 20 Feet Deep
Achieving good water clarity in freshwater ponds can be challenging, especially during spring and summer months. Algal growth is a common issue that increases suspended solids in open water bodies. Excess algal biomass can be altered with bioaugmentation. Implementing bio-diverse cultures of bacteria to degrade accumulated organic matter at the bottom of freshwater ponds has proven effective for supporting healthy bacterial and algal community dynamics in the following case study.
A three-acre freshwater lake in a public park in Oregon was originally a spring fed watering hole for cattle under the ownership of William S. Ladd, a former mayor of the area. In 1911, the spring and surrounding land were sold to the city to transform into a park. The surface area and depth of the watering hole were enlarged to accommodate recreational use. Some years later, the park was named the "most beautiful park on the west coast" by the Pacific Coast Park Association and was listed on the National Register of Historic Places.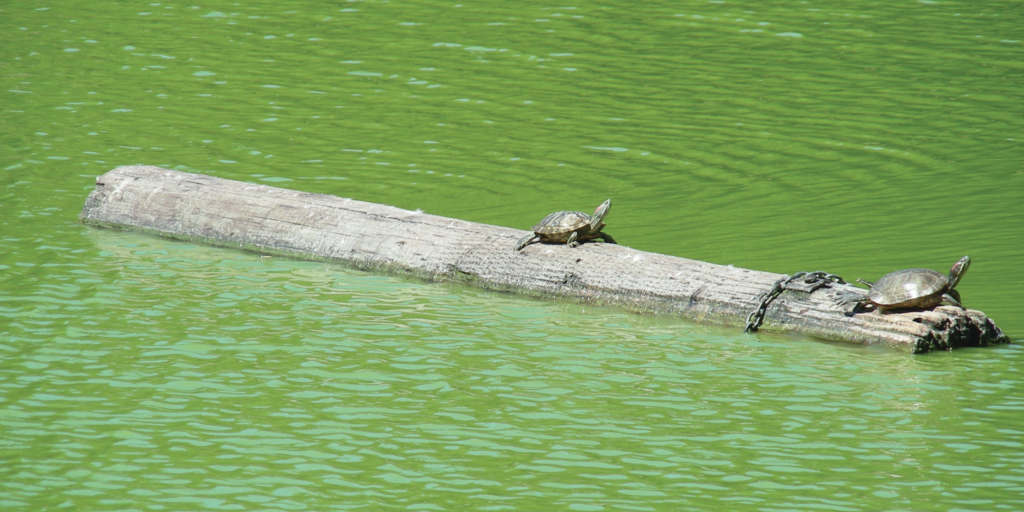 The freshwater lake was having trouble maintaining year-round water clarity. Organic matter had accumulated at the bottom of the lake and was promoting algal growth in the summer months after the lake would turn-over. During this process, nutrients
in the lake organic matter were mobilized in the water column and used to generate algal and cyanobacterial biomass.
Water clarity in the lake was important to the aesthetic and recreational value of the park. Furthermore, the water body had toxic cyanobacteria inhabitance. These populations of bacteria are a known health risk for people and pets. In order to improve water clarity and safety in the lake, the park management employed BioLynceus® bioremediation to degrade organic substrate at the bottom of the water body to mitigate nutrient loading impacts. Weekly doses of ProBiotic Scrubber® were inoculated in the lake to start treatment.
To determine the solids reduction during the treatment, water height profiling was conducted at 44 locations in the lake. Measurements were taken before bioaugmentation, and after four and 12.5 months of dosing ProBiotic Scrubber®. Solid reduction values were found by comparing the water heights at each reference point on the three profiling dates. Water heights were corrected by the difference in lake water height when profiling occurred (measured from same location).
Over the first four months of treatment, the organic material at the bottom of the lake was reduced by an average of 6.5 inches (in). Within the next eight and a half months, the organic bottom solids were minimized by an additional average of 15 in. The total average solids reduction was 21.5 in over 12.5 months.